Vice President Kamala Harris announced the initial awardees under the Minority Business Development Agency (MBDA) Capital Readiness Program (CRP) – a technical assistance program funded by the U.S. Department of the Treasury's State Small Business Credit Initiative (SSBCI). The Treasury Department has increased its previously announced support for the CRP, to a total of $125 million in SSBCI funding.
Secretary of the Treasury Janet Yellen delivered remarks on the Inflation Reduction Act and progress on modernizing the IRS. Secretary Yellen announced that by the next filing season, taxpayers will be able to digitally submit all correspondence, non-tax forms, and notice responses to the IRS, and urged Congress to provide sufficient annual appropriations for the IRS in order to build on this progress. 
The U.S. Department of Housing and Urban Development (HUD) and the National Association of Real Estate Brokers (NAREB) unveiled a partnership aimed at tackling appraisal bias and discrimination in the housing market. This collaboration, which is set to launch in the coming months, will increase education, outreach, and efforts to combat racial appraisal bias in home property valuation.
The Federal Reserve identified artificial intelligence (AI) and quantum computing as cybersecurity risks in its Cybersecurity and Financial System Resilience Report to Congress.
The Federal Reserve Bank of Kansas City's Board of Directors announced that Jeffrey R. Schmid, President and Chief Executive Officer of the Southwestern Graduate School of Banking Foundation at Southern Methodist University's Cox School of Business, has been appointed President and CEO of the Kansas City Fed. His term will start on August 21, 2023.
The Federal Deposit Insurance Corporation (FDIC) issued its list of state nonmember banks recently evaluated for compliance with the Community Reinvestment Act (CRA). The list covers evaluation ratings that the FDIC assigned to institutions in May 2023.
The Consumer Financial Protection Bureau (CFPB) filed a lawsuit in federal court against auto-loan servicer USASF Servicing (USASF) for allegedly committing a host of illegal practices that harmed individuals with auto loans. The CFPB is seeking to obtain redress for consumers and civil money penalties and stop any future violations.
The CFPB issued guidance to consumer reporting companies about their obligation to screen for and eliminate obviously false "junk data" from consumers' credit reports. The CFPB stated that companies need to take steps to reliably detect and remove inconsistent or impossible information from consumers' credit profiles.
The Securities and Exchange Commission (SEC) announced that it obtained a temporary asset freeze, restraining order, and other emergency relief against Digital Licensing Inc., a Draper, Utah based entity doing business as "DEBT Box," as well as the company's four principals, Jason Anderson, Jacob Anderson, Schad Brannon, and Roydon Nelson, and 13 other defendants in connection with an alleged fraudulent scheme to sell crypto asset securities to hundreds of U.S. investors that raised approximately $50 million and unspecified amounts of bitcoin and ether.
The Financial Industry Regulatory Authority (FINRA) posted a blog providing an inside look into FINRA's crypto asset work. The blog discusses FINRA's Crypto Hub, FINRA member firms' crypto asset activities, FINRA oversight and surveillance, and FINRA's efforts to enhance its capabilities.
The Government Accountability Office (GAO) published a report that recommends Congress consider providing means-tested assistance to National Flood Insurance Program policyholders, which recently implemented a major revamp of how it calculates premiums.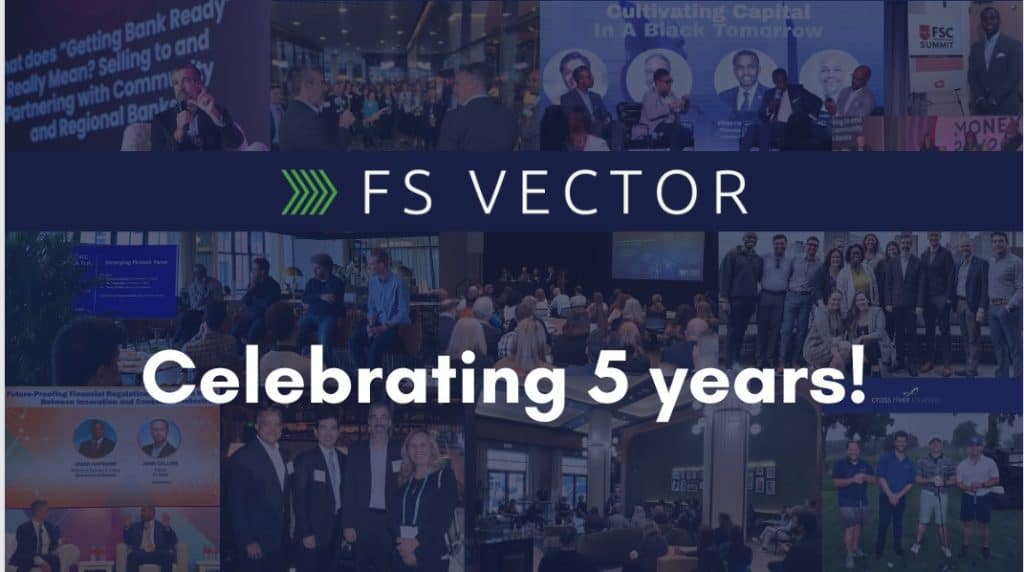 This month marks the five year anniversary of FS Vector! Read a note from our Co-Founder and CEO John Beccia here.
Need to catch up on what happened earlier this week? Check out our Midweek Update here.